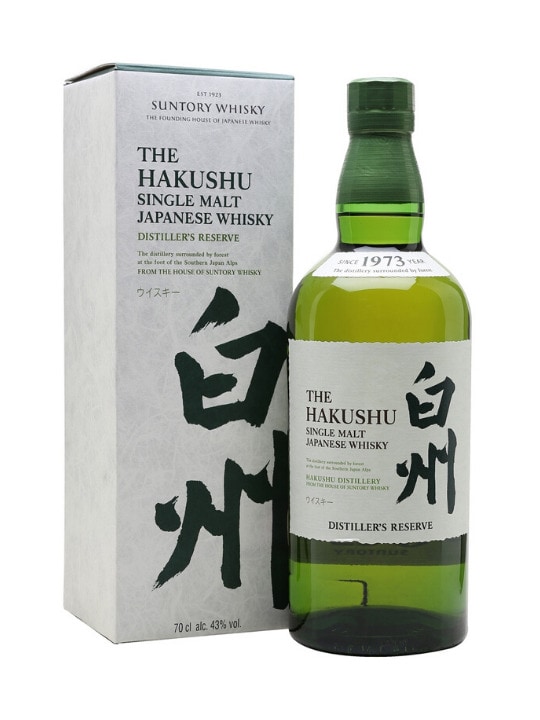 Suntory Hakushu Distiller Reserve 70cl
€113.50 inc. VAT
Out of stock
Brand
Suntory
Suntory is arguably the first Japanese whisky (or whiskey). The Yamazaki distillery outside Kyoto was Japan's first official whisky distillery (followed closely by Nikka). Suntory is also the largest Japanese whisky brand, also followed closely by Nikka. Suntory may be best known in Malta and the rest of the world for the phrase "For relaxing times, make it Suntory time" in the film "Lost in Translation" in which Bill Murray films a commercial for the spirit, repeating the phrase over and over again.
Shinjirō Torii, the founder, worked as an apprentice at a store in Osaka in the late 1880s, where Western-style liquors were sold. The developed the whisky's flavour profile was based on that of the Scotch whisky he tasted while on the job. Torii, however, envisioned a Japanese approach by choosing a terrain and climate completely different from those of Scotland. Suntory Whisky is now the fusion of the delicate forces of Japanese nature itself combined with the passion and precision of the best Japanese artisans. The brand officially changed its name in 1963 to Suntory, a manipulation of the Japanese words "san," meaning "three", likely after Torii's three sons, and "Torii", for the brand's founder.
World War II ignited a thirst for whisky in both Japanese and American soldiers. In Japan, sales of whisky rose each year during the war, making wartime one of the most profitable years in history for Japanese whisky brands like Suntory and Nikka. The nation's demand for whisky continued to grow in postwar years and for decades to come, causing the spirit to become the most consumed alcohol category in Japan at the time. This is due in part to high levels of consumption by occupying American soldiers, who preferred Japanese beer and whisky to sake.
Suntory's whisky distillers utilize a diverse array of fermentation, mixing, and malting processes, allowing its distilleries to produce over 100 different single-malt whiskies made in various copper pot stills and oak casks.
In 2014 Suntory acquired Beam Inc, producers of Bourbon whiskies Jim Beam, Maker's Mark, Old Grand-Dad, Old Crow and Knob Creek; Scotch whiskies Laphroaig, Bowmore, Ardmore, Auchentoshan, Teacher's Highland Cream; Irish whiskeys Connemara, Greenore and Kilbeggan, amongst others.