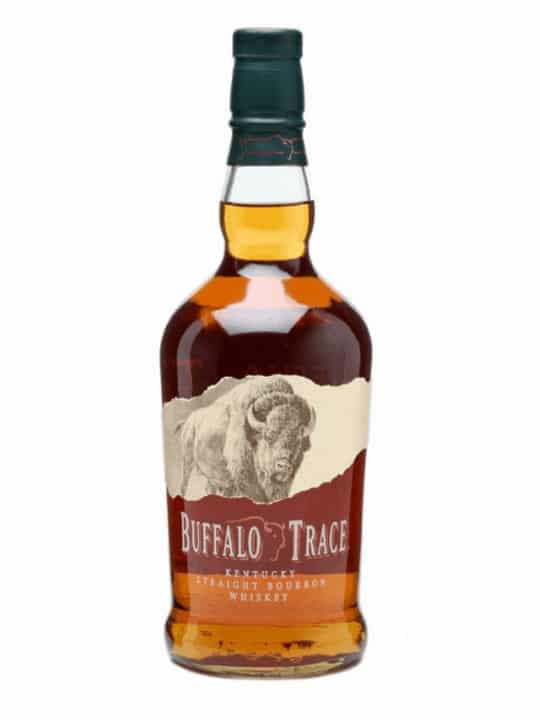 Buffalo Trace Kentucky Straight Bourbon 70cl
€22.60 inc. VAT
In stock

Brand
Buffalo Trace
Buffalo Trace Kentucky Straight Bourbon Whiskey is distilled, aged and bottled at  the most award-winning distillery in the world. Made from the finest corn, rye and barley malt. This whiskey ages in new oak barrels for years, in century old warehouses until the peak of maturity. The taste is rich and complex, with hints of vanilla, toffee and candied fruit. The smooth finish lingers on the palate. This will never change. The oldest continuously-operating distillery in the United States.
Ancient buffalo carved paths through the wilderness that led American pioneers and explorers to new frontiers. One such trail led to the banks of the Kentucky River. Distillation soon followed. What would become the area's distinguished bourbon heritage took root. It is here where Buffalo Trace Distillery has been making bourbon whiskey the same way for more than 200 years. Buffalo Trace Kentucky Straight Bourbon Signature Whiskey was produced in tribute to the mighty buffalo and the rugged, independent spirit, of the pioneers who followed them.
There has been a working distillery on the grounds since 1787. By 1886, the distillery had introduced the nation's first climate-controlled warehousing for ageing whisky and had earned a worldwide reputation for producing America's finest bourbons. During the Prohibition era, the distillery's existence was spared by the allowance of a permit, one of only four issued in the country, to continue distillation for medicinal purposes. This tradition was honoured in 1984 when the distillery became the first to commercially market a single-barrel bourbon. Also producers of the extremely rare World's Best Bourbon, according to International Wine And Spirits Competition, Colonel E. H. Taylor Jr; which we do not currently stock unfortunately, applauded its "intense nose of bitter chocolate".
[su_spoiler title="Click for more" style="fancy"]Brushed gold in colour, this bourbon brings a mélange of aromas to the nose: honey, vanilla, oak, toffee and a suggestion of coriander are all there. The body is big, and on the palate, this becomes a very spicy, masculine whiskey with a complex spicy mustiness and notes of leather, tobacco, overripe oranges and a surprising smokiness not often found in a bourbon. Outstanding aroma, kicked off by a spicy prickle. Satisfyingly deep, gently vanilla-ed and molassed with even a sprig of sweet mint.A rip-roaring waxy sweetness palate checked by a big build-up of vanilla-rich oak. Corn is chewy, and rye offers a rich textured background. Dries at last in the finish as the oak takes command, but rye offers extra depth and a layer of bitterness, as does a lingering licorice.
This whisky keeps pleasing crowds of professionals.
"Big, moody, uncompromising and complex beyond belief." "One of the world's great whiskeys" comments Jim Murray from Whisky Magazine. "The finish is long and lush." says Wine Enthusiast Magazine with a rating of 93.
Double Gold Medal Winner in the 2009 San Francisco World Spirits Competition. The American, family owned, distillery has won more international awards since 1990 than any other North American distillery, earning more than 160 distinctions in national and international competitions, including seven "Distillery of the Year" awards, since 2000.
Buffalo Trace Distillery site encompasses 119 acres and 114 buildings. It as historically been known by several names, including the George T. Stagg Distillery and the Old Fire Copper (OFC) Distillery. Stagg distillery was renamed Buffalo Trace in June 1999 and introduced its flagship bourbon, Buffalo Trace Kentucky Straight Bourbon Whiskey, in August 1999. Currently owned by Sazerac Company, a privately held American alcoholic beverage company headquartered in Metairie in the metropolitan area of New Orleans, Louisiana, in turn owned by billionaire William Goldring and family. Sazerac also produce Paddy Irish Whiskey and Fireball Cinnamon & Whisky Liqueur as well as a few wines.
More information at https://www.buffalotrace.com/.
[/su_spoiler]
At your comfort also take a peek at our products.
Note : the title of "The oldest continuously-operating distillery in the United States" is also
shared by Maker's Mark,
depending on how it is measured.