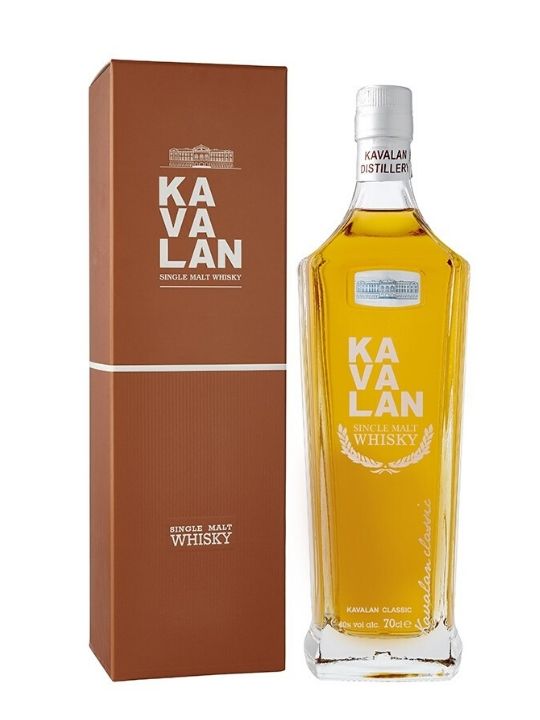 Kavalan Single Malt 40% 70cl
€75.95 inc. VAT
Kavalan is produced at the King Car Whisky distillery in located in Yilan County, Taiwan. Using high quality water from the Syue-shan mountain range their signature malt is then aged in three types of casks, Bourbon, Fresh Sherry and refill casks. The single malt whisky produced there is named after… details
In stock
Description
Kavalan is produced at the King Car Whisky distillery in located in Yilan County, Taiwan. Using high quality water from the Syue-shan mountain range their signature malt is then aged in three types of casks, Bourbon, Fresh Sherry and refill casks. The single malt whisky produced there is named after the indigenous people who originally inhabited this northeastern corner of the island: the Kavalan.
This is a clean and elegant malt with a pleasant & refreshing fragrance of the butterfly orchid which is fruity and seductive. With hints of honey, tropical fruits (mango in particular), pear drops, vanilla, coconuts and suggestions of chocolate. The palate has a hint of sweet mango juice with that spicy complexity and gentle warmth on a medium citrus finish.
The warm sub-tropical climate means that the whisky effectively matures more quickly and an impressive range of whiskies are available (in Malta too thanks to our partners at NMArrigo).
This Kavalan Single Malt Whisky, has been awarded a Gold Medal at the 2011 International Wine & Spirits Competition.
Quite an interesting addition to any Whisky collection and a great party talker.