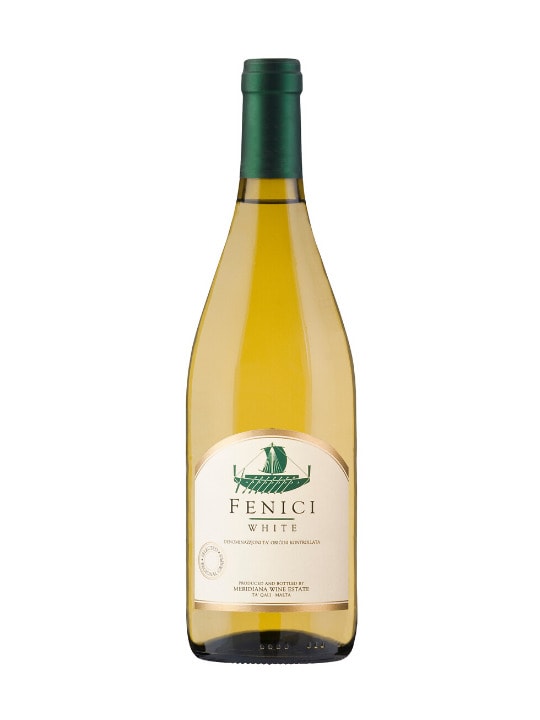 Meridiana Fenici 2016 75cl
€12.50 inc. VAT
Fenici White was first released in 2007 (vintage 2006). It is a Maltese DOK (Denominazzjoni ta' Origini Kontrollata).
The Chardonnay, Vermentino & Viognier combination grape variety wine is casual and easy to drink. Fenici White has a vibrant, straw-yellow colour; aromas of exotic fruits with floral… details
| | |
| --- | --- |
| Format : 75cl | ABV : |
| Vintage : 2016 | |
Only 3 left in stock
Description
Fenici White was first released in 2007 (vintage 2006). It is a Maltese DOK (Denominazzjoni ta' Origini Kontrollata).
The Chardonnay, Vermentino & Viognier combination grape variety wine is casual and easy to drink. Fenici White has a vibrant, straw-yellow colour; aromas of exotic fruits with floral notes; and a fresh, light, citrus flavour with a lively acidity. The name 'Fenici' pays tribute to the Phoenicians who, during the first millennium BC, spread winemaking culture throughout the Mediterranean and endowed European Malta with its distinctive Semitic language.
The 2016 Vintage was characterized by the very little rainfall. Temperatures were in line with seasonal averages, except for winter which was slightly warmer. Due to the high temperatures in January and February sprouts occurred slightly earlier than in the previous year. Because of the little rain and excessive heat on the island, the grapes matured in advance. Despite this Meridiana obtained good productions for all the varieties in the vineyards. All in all, the whites were very fresh and well balanced characterized by lively aromas.
The 2018 vintage was characterized by the constant rainfalls registered in spring. This made it quite challenging, but at the end, grape production was abundant. Excellent work and control on the white grape varieties, and the thorough selection on the red grape varieties have given the desired quality and balance to the wines.
Fenici wines derive from Meridiana's estate and from closely supervised third party properties situated in the vicinity.