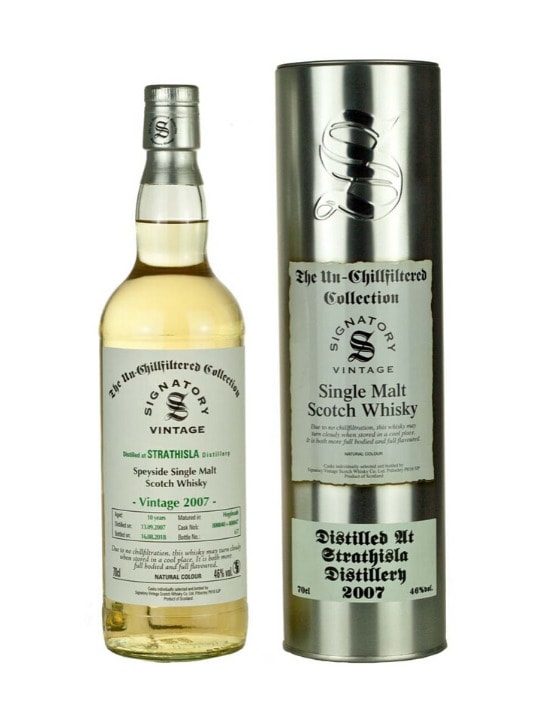 Strathisla 2007 10 Year Old 43% 70cl
€43.50 inc. VAT
| | |
| --- | --- |
| Format : 70cl | ABV : 43% |
| | Aged for 10 Years |
Out of stock
Brand
Chivas Regal
Chivas Regal was established in 1801, just in time for the initial whisky boom. Distilling whisky had been legalised in 1823, leading to a proliferation in the number of brands in the market. The Chivas Brothers (John and James Chiva) perfected the meticulous art of blended Scotch whiskies while catering to a wealthy clientele that within a few decades, included the British Monarchy itself.
William Edward opened his wine merchant and grocery store in Aberdeen before moving to a new location in the city sometime in 1838 when a James Chivas came onboard. A name change was instigated to reflect this new partnership but this only lasted until 1857 when the company was dissolved. Other family members joined and the Chivas legacy endured until 1893 when the male bloodline finished and employees took the company forward. In 1895, the female side of the family sold out removing any residual trace of Chivas family members. The proposal was accepted with the one condition that the company name would remain Chivas Brothers forever.
Granted a Royal Warrant in 1843 to supply goods to Queen Victoria, the Chivas Regal brand went from strength to strength to conquer the loyalties of every Scotch Whisky lover in Scotland and England, and it was time to spread the word of luxury Scottish whisky around the world. Chivas Regal introduced the United States to the first luxury Scotch whisky blend ever produced, and was an instant hit with the New York elite. At a time when blended Scotch whiskies were perceived to be inferior to single malt whiskies, Chivas Brothers worked hard to shatter this mentality by producing spirits that were renowned far and wide for their smoothness and distinct palate and aroma. Ever the innovators.
Right up until the advent of the second world war, the Chivas brand was primarily exported where its main markets were located. Shortly after the war in 1949 the company was snapped up by Seagrams who recognised the visibility of the Regal brand, which was associated with the higher end of the market. In 1962 Chivas shipped 135,000 cases to the United States with this dramatically rising to to over a million in 1980. Seagram later imploded, with its beverage assets wholesaled off to various industry titans, notably The Coca-Cola Company, Diageo, Infinium Spirits, and Pernod Ricard. Pernod Ricard acquired Chivas Regal in 2001. Pernod Ricard also own The Glenlivet, Aberlour, Clan Campbell and Ballantines Today the Chivas Regal brand is the 3rd or 4th largest whisky brand in terms of sales in the world after Johnnie Walker and Ballantines (and sometimes Grants) (https://scotchwhisky.com/magazine/features/20833/top-10-best-selling-scotch-whiskies/).
The Chivas Regal brand has fortified its name in the realm of whisky making, and continues to reinvent itself with some of the most exquisite blends that are doing right by tradition with some of the most robust and timeless expressions.
https://en.wikipedia.org/wiki/Chivas_Regal
https://www.chivas.com/
https://www.chivasbrothers.com/
Gordon & MacPhail
Strathisla