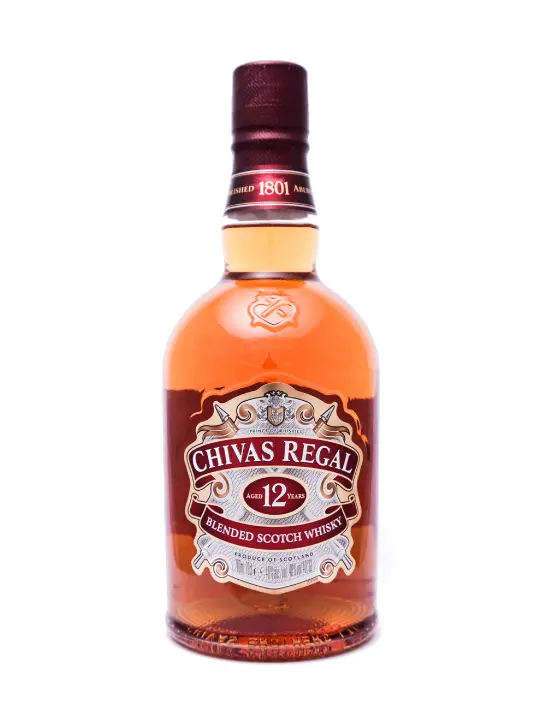 Chivas Regal 12 Year Old Blended Whisky 70cl
€30.00 inc. VAT
Chivas Regal's 12 year old flagship and needs no introduction. One of the most accessible and available age-statemented Scotches and a great introductory whisky sipper. A Scotch that needs no water. Potentially tailor made for use in highballs and other refreshing cocktails. Very streamlined and well engineered blend. Chivas 12 was the first of the Chivas family to be released post-Prohibition and remains Chivas' signature blend today. The bottle's rounded shape and elevated shoulders reflect the generosity of the blend and pride as a leading Scotch whisky. The luckenbooth, a symbol of passion and love that's also forged into the gates of the Home of Chivas, Strathisla Distillery, is printed on every bottle of Chivas Regal to represent heritage and passion for blended Scotch whisky. Mild nose with notes of shortbread, grassy cereals, lemon oil, and a faint whiff of furniture. … details
| | |
| --- | --- |
| Format : 70cl | ABV : 40% |
| | Aged for 12 Years |
In stock
Description
Chivas Regal's flagship 12 year old and needs no introduction. One of the most accessible and available age-statemented Scotches and a great introductory whisky sipper. A Scotch that needs no water. Potentially tailor made for use in highballs and other refreshing cocktails. Single malt mostly from the Strathisla distillery in Speyside (the oldest continuously operating Highland distillery). The more generous inclusion of Speyside malts in their blend, lends a distinctly fruity nose to the whisky. Some fine malt and grain whiskies lie within Chivas 12 yr old with a variety of casks used for maturation of the 12-year-old Scotch whiskies that make up this blend. Overall, the Chivas 12-year-old's blend beautifully retains and carries the best characteristics of the Strathisla single malt.
Mild nose with notes of shortbread, grassy cereals, lemon oil, and a faint whiff of furniture. The palate is even more subtle. A light touch of honey and a bit of green herb character are the predominant themes, the finish folding in some sweetness in the form of almond cookies touched with baking spice, butterscotch and vanilla but not particularly lingering. Nonetheless superb blend in its price category, representing great value for money. Over the years Chivas have maintained the classic taste created in the 19th century by pioneers of blended Scotch whisky, founders John and James Chivas. Whisky connoisseurs may be more interested in other blends or single malts. Do not purchase this if buying a present for something of a Scotch whisky fanatic. However there is absolutely nothing to criticise in the blend and it is a very streamlined and well engineered blend.
Chivas 12 was the first of the Chivas family to be released post-Prohibition and remains Chivas' signature blend today. The bottle's rounded shape and elevated shoulders reflect the generosity of the blend and pride as a leading Scotch whisky. The luckenbooth, a symbol of passion and love that's also forged into the gates of the Home of Chivas, Strathisla Distillery, is printed on every bottle of Chivas Regal to represent heritage and passion for blended Scotch whisky.
Awards :
2019 – International Wine & Spirit Competition — Silver
2020 – International Spirits Challenge — Gold
2021 – International Wine & Spirits Competition — Silver
Often compared to Johnnie Walker Red Label and Johnnie Walker Black Label, being just about in the middle as price goes, as well as Dewar's 12 year old and, being part of the same Pernod Ricard group, Ballantine's 12 year old blended whisky.
You may also like…
Out of Stock

€

56.99 inc. VAT