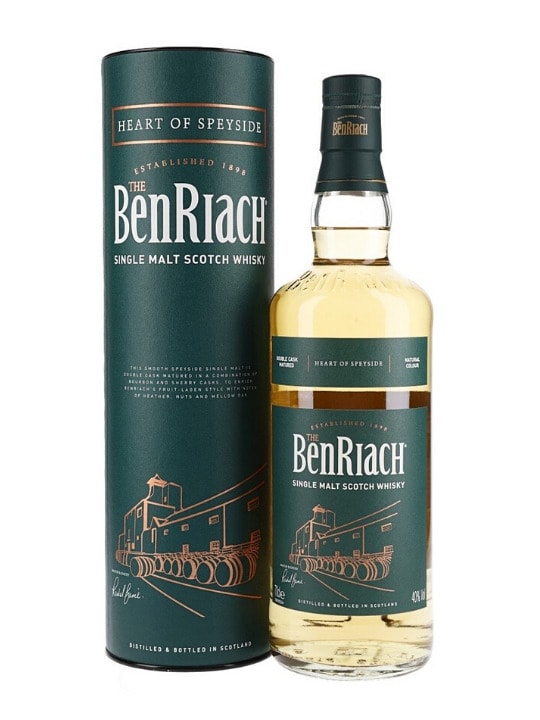 Benriach Single Malt Scotch Whisky 70cl
€40.40 inc. VAT
Only 2 left in stock
Brand
Benriach
BenRiach distillery is a single malt Scotch whisky distillery in the Speyside area of Scotland. [su_expand height="110" more_icon="icon: plus" less_icon="icon: minus"]Ruggedly beautiful, Benriach Distillery stands on the site of the old Riach farm in north Speyside, drawing its water source from the mineral-rich, underground aquifer that lies deep beneath the distillery grounds. Benriach distils three malt whisky styles - unpeated, peated and triple distilled - and is one of the two remaining Speyside distilleries to use malted barley from its own on-site floor maltings.
Originally built in the 1897, Benriach was closed in 1900, after a recession hit the previously booming whisky industry which saw a huge number of distilleries (many of which had only just opened) close down. Whilst closed, its large malting facility was used to supply Longmorn whisky requirements. It was refitted and reopened in 1965 by Glenlivet Distillers Ltd, still retaining its hand-turned malting floor. The company was owned by Seagram for some time (much like Chivas Regal), and most of its produce used to go into their scottish blended whisky. Pernod Ricard took over Seagram's whisky division in 2001 and Benriach was closed once again, but bought in 2003 by Billy Walker, the former production director of Burn Stewart, and two South African entrepreneurs. It is now currently owned by Brown-Forman Corporation (of Jack Daniels fame) after being purchased on 1 June 2016 as a subsidiary from the BenRiach Distillery Company Limited.
Used to be a difficult whisky to come across. Sometimes called intriguing and extraordinary, sometimes called fantastic, the dedicated team spend their days crafting the award winning Speyside single malts and try to tirelessly push the limits of flavour possibility helped by an eclectic selection of casks (Virgin Oak Usa, Bourbon Usa, Red Wine France & Spain, Marsala Italy, Port Portugal, Portuguese Madeira and Rum casks from Jamaica) from around the world.
For one month each year, local Scottish barley arrives at the distillery and they continue the time-honoured tradition of malting the barley by hand on the historic malting floor. BenRiach like calling this the 'Malting Season'.
[caption id="attachment_17111" align="alignnone" width="800"]
Map to Benriach Distillery.
[/caption]
References :
https://www.benriachdistillery.com/
[/su_expand]