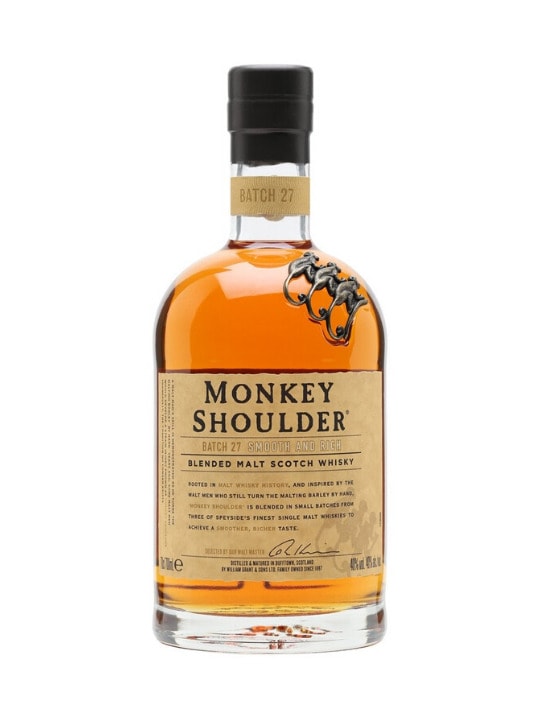 Monkey Shoulder Batch 27 Blended Malt Scotch Whisky 70cl
€35.99 inc. VAT
An interesting one, this. A blend of single malts, as opposed to a Scotch blend containing grain. Monkey Shoulder is the nickname for a shoulder injury experienced by maltsters after long hours of manually turning malt on a malting floor. These would develop a strain injury which had a tendency to cause their arm to hang down a bit like a monkey's, so they nicknamed it 'monkey shoulder'. Blended in small batches of Speyside's finest single malt whiskies.
Made to be mixed. Monkey Shoulder whisky was designed as a mixing spirit. However is also delicious neat and on the rocks.
Monkey Shoulder is labelled "Batch 27" as a reference to the original experimental batching of 27 casks. Now, runs of Monkey Shoulder are made 27 casks at a time, although the batches are not individually numbered. The vatting is a mix of William Grant & Sons' three distilleries, all located in Dufftown, in Speyside: Glenfiddich, The Balvenie, and Kininvie. All three are from "first-fill" ex-bourbon casks. The label still claims that the spirit is a blend of three distilled spirits; however, to keep up with demand, some other distilleries are swapped in from time to time and the specific provenance is no longer identified.
The malted barley is typically not peated in this version prior to fermentation. Once the sugars in that mash have turned to alcohol, it is distilled and placed into oak barrels for a period of no less than three years. The ages of the whiskies are unreleased, but are probably not very old. There's no age statement on the bottle.
A gentle introduction to the world of Scottish malt whisky, with a very welcoming profile and a gentle effect on the palate, all with a nice array of grains and sweets that showcase what good middle of the road ex-bourbon Scotch malt whisky is like.
Taste: Mellow vanilla with spicy hints
Nose: Zesty orange, vanilla honey & spiced oak.

| | |
| --- | --- |
| Format : 70cl | ABV : 43% |
| Aged for : N/A | |
Out of stock