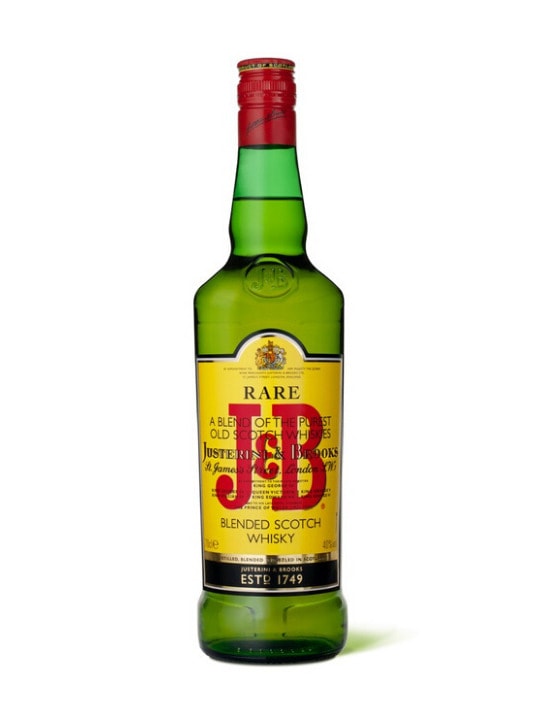 J&B Rare Blended Scotch Whisky 70cl
€16.30 inc. VAT
Created just in time for the end of the American Prohibition. J & B Rare (often just referred to as "J&B" or, simply, "JB") is a smooth, sweet tasting whisky with a light, fresh character. Somewhat light in taste and often used as a mixer in bars and weddings. It is a good introduction to whisky in general. Once the second best selling Scotch whisky the world, it is now about the 5th (beaten by Chivas, Ballantine's and Johnnie Walker (also from Diageo). A firm favourite in Malta, especially in the young market scene in Paceville and Sliema. It is probably still amongst the first 2 or 3 in Malta. One of the biggest names in the blending market, Justerini & Brooks' blend never fails to deliver in style, quality and value for money.
As with many blends one does not know the exact formula. Kockando is among a small group of malts that are especially influential in the J&B blends.
Often appears in 1970s and 1980s Italian films, which, in part, probably contributes to the popularity in Malta.

In stock
Brand
J&B
Justerini and Brooks' principal founder, Giacomo Justerini (Giustarini), was a wine merchant from Bologna who was infatuated by an Italian opera singer, Margherita Bellini, whom he followed to London in the mid-eighteenth century (1749). His love is not reciprocated, but Margherita introduces him to Samuel Johnson who will in turn introduce him to his future business partner, his nephew, George Johnson. [su_expand height="80" more_icon="icon: plus" less_icon="icon: minus"]Justerini meanwhile worked in Britain as a maker of liqueurs using some recipes from his home town (some of which seem to have been his father's too). Together the two form Johnson & Justerini, purveyors of liquors, wines and spirits, running their offices from No. 2 Pall Mall. In 1760, Justerini returned to his native land after selling the business outright to Johnson. In 1761, Augustus delivers the wines for both King George III's Coronation and the Royal Wedding. He is given the title of the new Monarch's wine merchant. Justerini & Brooks has been granted the Royal Warrant ever since.
In 1831, two generations of Johnsons later, Augustus sells Johnson & Justerinis to Alfred Brooks. It is now renamed Justerini & Brooks (as it still stands today). Brooks hears of Andrew Usher, an Edinburgh Spirit merchant, who likes to experiment and was the first person to commercially blend whisky. Justerini & Brooks task Usher with creating a smoother blend for a new audience, so he brings his business partner into the mix – James Anderson. Together they develop the J&B Club blend, one of the earliest Scotch house blends (father of J&B Rare), and they acquire the business together.
J&B Rare whisky is blended and offered for sale for the first time in 1932 and exported to America in 1936.
In 1962 the company amalgamated with four others to form International Distillers and Vintners Ltd (IDV). Grand Metropolitan bought IDV, then part of Watney Mann & Truman, in 1972.
In 1992 Justerini & Brooks launches a new programme 'J&B Care for the Rare', a worldwide initiative to save rare and endangered species from extinction. One of the first projects saw the reintroduction of a breeding pair of black rhinos into Malawi, one named 'Justerini' and the other 'Brooks'. This still runs with the patronage of Price William.
Grand Metropolitan merged with Guinness plc to form Diageo in 1997. The massive group produces Johnnie Walker, Cardhu, Oban, Talisker, Lagavulin, Cragganmore, Knockando (of course), Captain Morgan And Ron Zacapa Rums, Baileys Irish Cream, Sheridan's Coffee Liqueur And Pimms.
Interestingly J&B was imported by Paul Bonnici & sons Ltd for many years. Captain A. Caruana took over part of this business, including the shop (Ten Green Bottles) in Zebbug, Malta.
References :
https://www.justerinis.com/about-us/our-history/