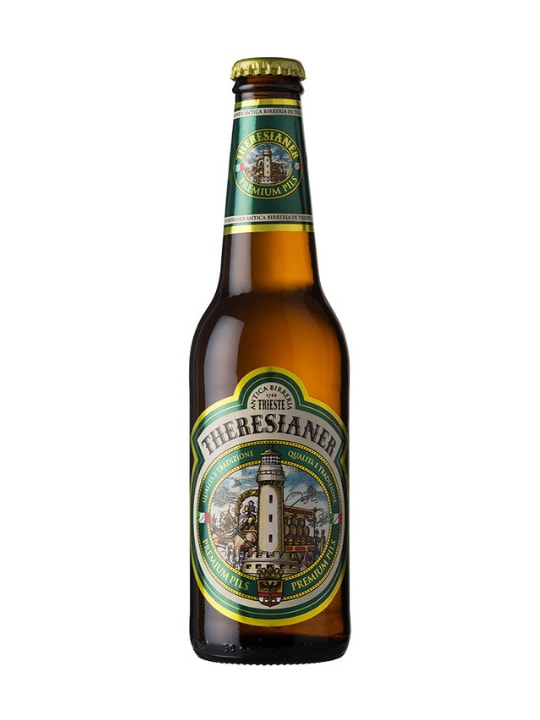 Theresianer Premium Pils 33cl
€2.25 inc. VAT
Theresianer Craft Premium Pils 33cl Bottle. Medium alcohol content aged for less than 2 months. An intense stray yellow with a hoppy aroman. Pale and brilliant with a finish that blends a particularly dry taste with fresh notes of malt and hops, typical of the Czech Pilsner tradition.
One is inevita… details
Out of stock
Description
Theresianer Craft Premium Pils 33cl Bottle. Medium alcohol content aged for less than 2 months. An intense stray yellow with a hoppy aroman. Pale and brilliant with a finish that blends a particularly dry taste with fresh notes of malt and hops, typical of the Czech Pilsner tradition.
One is inevitably transported back to Pilsen, the town in the Czech Republic close to the German Bavaria, where it all originated. For centuries, these areas have grown a two-row barley with a particularly thin husk and Saaz hops, which have a very delicate aroma. These two ingredients are the soul of this beer, a beverage so unique that it captivates the senses with its distinct, balanced aroma and leaves no room for any "others".
Serve as an aperitif with snacks and crips, fried fish or suchi. Also great with a meat (bolognese) spaghetti.
Type Of Yeast: Saccharomyces Carlsbergensis
Type Of Fermentation: "bottom"
Origin Of The Barley: Bavaria
Serving Temperature: 6-8° C
You may also like…
Out of Stock

€

3.40 inc. VAT

Out of Stock

€

4.75 inc. VAT

Out of Stock

€

2.40 inc. VAT