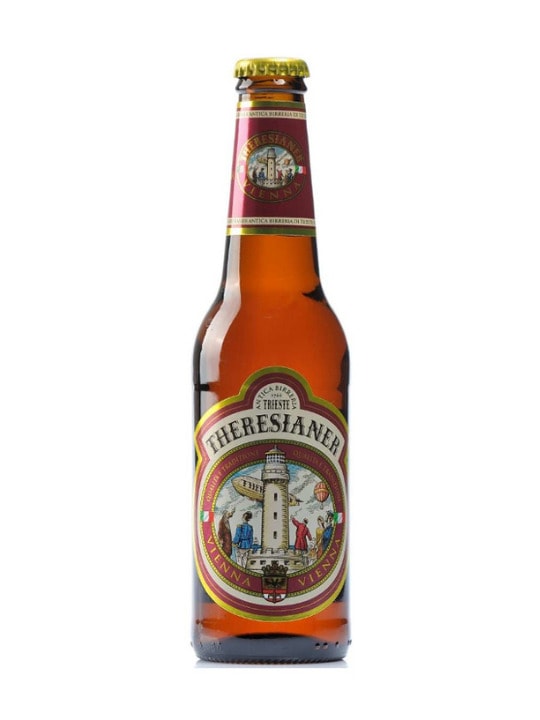 Theresianer Vienna 33cl
€2.05 inc. VAT
Slow brewing certified. Theresianer Vienna  got a Gold in the Berlin International Beer festival 2020.
Austria is famous for its amber-red style of Vienna lager, first brewed by Anton Dreher in 1841. Anton Dreher moved from Vienna to Trieste in 1870, at the time still part of the Austrian empire.
A copper to bronze coloured Vienna lager with a sweetish malt aroma and flavour. Perfect balance of malt and hops. Captivating copper colour, and seductive fruity notes that intertwine with hints of nuts and caramel. Discover a smoothness that is natural, yet never excessive. A slight saltiness in the end. Drink from a glass not directly from the bottle, otherwise the maltiness may overpower.
Aged for 3 months with an intense aroma of caramel and a taste that allows the malt to gently predominate. Barley from Franconia. Yeast : Saccharomyces Carlsbergensis strain. Suggested serving temperature of 8-10°C.
It will pair great with bratwursts and a little sweet mustard, spiced chicken wings, venison, and just about any grilled meat. Seafood can work here to: battered-fried fish and chips or crab cakes with just a bit of spice to them. The sweet flavours that develop when you grill vegetables also work extraordinarily well with the soft malt.
If looking to build a before-dinner cheese plate around Vienna lager, Emmental, mild Gruyère, and Stilton will all work great. As for dessert, find something light but slightly nutty like coconut flan or almond biscuttini (from some of our favourite local sellers) to match the lightly sweet malt.
More information :  https://www.theresianer.it/en/beers/vienna-2/
| | |
| --- | --- |
| Format : 33cl | ABV : 5.3% |
| Aged for : 3 months | |
Out of stock
You may also like…
Out of Stock

€

7.25 inc. VAT

Out of Stock

€

4.75 inc. VAT

Out of Stock

€

10.20 inc. VAT