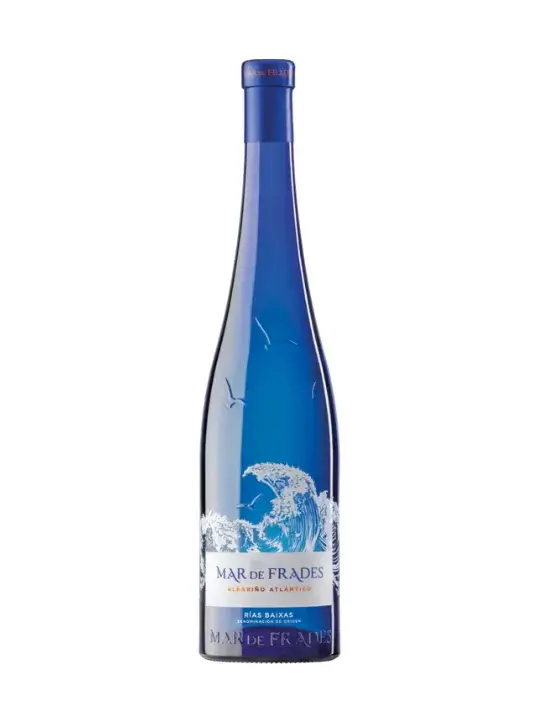 Ramon Bilbao Mar de Frades Albarino 2019 75cl
€16.90 inc. VAT
92 points by Falstaff for the 2020, 95 points by Falstaff for the 2016.
Mar de Frades is a Galician word meaning "Sea of Friars". Crashing waves were chosen for the Mar de Frades wine label, Albariño Atlantico. Albariño, an indigenous white grape variety that is just perfect for summer. The grape is noted for its distinctive botanical aroma with a citrous undertone. The wine produced is unusually light, and generally high in acidity with medium alcohol levels.
With an iconic blue bottle to truly reflect its Atlantic inspiration. Being one of the biggest vineyard owners in the Rías Baixas region, more than 50% of the grapes that go into this wine are grown in Mar de Frades' own vineyards. Mar de Frades is now one of Spain's wineries of reference, and one of the most prestigious white wine brands in the whole sector, receiving multiple awards for both its wines and for the winemaker herself.
Fermentation takes place in stainless steel vats, in contact with the lees to give the wine longevity and volume. Albarino also takes to ageing. Mar de Frades vinify the Albariño from Finca Valiñas separately and age them for five years, to intensify that feeling of the ocean even more. Serve at a temperature of 8-10ºC.
Committed to our seas. Much like our own, home grown, Maltese Champion Neil Agius and the NGO, "Wave of Change", that he supports, Mar de Frades wants to shed light on the reality that there will soon be more plastic than fish in our oceans and seas.… details
| | |
| --- | --- |
| Format : 75cl | ABV : 13% |
| Vintage : 2019 | |
In stock
Description
Mar de Frades, a Galician word meaning "Sea of Friars", is the name given to the location opposite the ría Arousa, at the mouth of the river Umia, where the old pilgrims disembarked to continue their journey towards Santiago de Compostela. Avant-garde and daring, a sea of contrasts that seduces by its complexity where the Albariño shows its most surprising nuances.
Rías Baixas is made up of five subzones, across six river valleys and four estuaries on the granitic, schistous and alluvial soils of the Galician coast – is the home of Albariño, an indigenous white grape variety that is just perfect for summer. The grape is noted for its distinctive botanical aroma with a citrous undertone, very similar to that of Viognier, Gewurztraminer, and Petit Manseng, suggesting apricot and peach. The wine produced is unusually light, and generally high in acidity with medium alcohol levels.The history of Mar de Frades has always run parallel to that of the D.O. Rías Baixas (Spanish Denominación de Origen or Denominación de Orixe in Galician), which emerged the following year. They were pioneers in the place that represents the deepest winegrowing traditions of the Val do Salnés, where the legend of Albariño begins and Spain's most sophisticated and elegant white wines are produced. That little spot in the ocean, associated with a century-old tradition of cultivating Albariño, was the space chosen in 1987 to create a bodega inspired by the style of the Atlantic.
The Val do Salnés is located in Galicia, in the north-west of Spain. There, at the foot of the Valiñas Estate, on the side of a mountain facing the ría Arousa that cools the Atlantic breeze that caresses the vineyards. It is where Mar de Frades wines are born. The Mar de Frades bodega stands in the middle of this spot, with its slender grey figure of granite and copper, polished by the harsh Galician climate. Born with the goal of creating wines that would reflect the water's personality and character. The vineyards in Rías Baixas are fragmented into thousands of small, disperse plots across the entire region. Mar de Frades is one of the biggest vineyard owners in the region and more than 50% of the grapes that go into this wine are grown in owned vineyards, but they also work closely with more than 100 growers in the area.
The graphic of crashing waves on the label is part of the winery's soul. Related to the Atlantic, related to the sea. "We have a big Atlantic influence," says Paula Fandiño, chief winemaker for the Mar de Frades Winery. The wines are "saline and fresh".
The vines are trained in a pergola system to help ventilate the grape bunches to prevent fungal diseases in these conditions of high rainfall and humidity. Albariño is made for this climate. It has thick skins that aid resilience – but the thick grape skins are also full of terpenes, compounds that give wonderful citrus and fruit flavours. Albariño always has bright acidity and moderate alcohol levels – a perfect summer wine.
An excellent paradigm of the Galician landscape, the 7 hectares that make up the Valiñas Estate vineyard lie upon terraces on the south face of the Valiñas mountain, offering breathtaking views of the ría and the Albariño vines coming up to receive the Atlantic breeze. The soil on the estate is extremely poor, made up of decomposed granite and sand, which give our wines their mineral character, while its low yield allows us to concentrate the authentic essence of Mar de Frades.
Albariño also takes to ageing. Mar de Frades vinify the Albariño from Finca Valiñas separately and age them for five years. This intensifies that feel of the ocean even more.
Paula Fandiño is the winemaker. Since she was very young, Paula's passion has been the countryside and vines. Her wine-growing culture was passed down to her by her ancestors. Qualifying as a Technical Agricultural Engineer at the University of Santiago de Compostela, she is specialised in the branch of Agricultural and Food Industries, and is also an Agricultural Engineer, specialising in the fields of winegrowing and enology. Under her direction, Mar de Frades has become one of Spain's wineries of reference, and one of the most prestigious white wine brands in the sector, receiving multiple awards for both its wines and for Paula Fandiño herself, who in December of 2016 was named one of the most influential female enologists in Spain by the prestigious British magazine Drinks Business.
Produced by the Zamora Company, also owners of Ramon Bilboa, Lolea, Cruz de Alba and Martin Miller's Gin.
Committed to our seas.
https://www.mardefrades.es/en/sea-conscious/
http://www.wineriesforclimateprotection.com/v_portal/apartados/apartado.asp?te=128
In 2050 there will be more plastic than fish in the ocean. This fact was published in the study The New Plastics Economy, presented at the World Economic Forum which was held in 2019 in Davos (Switzerland). It is estimated that 8 million tonnes of plastic waste end up in our planet's oceans each year, although this figure could increase tenfold over the next decade unless the global community proves its waste management practices.
Mar de Frades wants to shed light on this reality, from its local surroundings, through the eyes of photographer Enric Gener, whose work is not only a true reflection of his passion, admiration and respect for the sea, but also serves to raise awareness about the importance of conserving it. Sea-Conscious was born at the hand of Mar de Frades in response to the problem of the plastic invading our oceans. This photography project consists of beautiful images by Enric Gener inviting us to reflect on our lifestyle and to send a message of hope.
Other awards :
International Wine Challenge Commended Winner 2016;
International Wine & Spirit Competition Quality Award;
Bronze Decanter Award 2015;
Silver Decanter Award 2015;
Gold Sommelier Wine Awards 2015;
Silver Sommelier Wine Awards 2014;
International Wine Challenge Bronze Winner 2014;
International Wines and Spirits Competition 2014, Silver (Albariño).
References :
https://www.mardefrades.es/
https://www.facebook.com/MardeFrades/
https://zamoracompany.com/
https://waveofchangemalta.com/
https://www.maltatoday.com.mt/news/national/110618/neil_agius_enters_world_record_books_with_1256km_nonstop_swim_from_linosa_to_gozo
https://www.euronews.com/green/2021/07/08/after-a-near-death-experience-this-olympian-is-breaking-swimming-records-for-the-environme
Brand
Ramon Bilbao
Bodegas Ramón Bilbao is one of the most prestigious wine brands in Spain and a key reference in Spanish and Rioja winemaking.
[su_expand height="110" more_icon="icon: plus" less_icon="icon: minus"]Ramon Bilbao is now backed by great viticulture specialists that work with respect for the land and tend the vines using all natural methods. The love of wine above all else, combined with a non-conformist spirit can be seen in the innovation and the new way of looking at the terroir. This strategy has managed to surprise critics and consumers, becoming an oenological point of reference around the world and making their wines amongst the biggest sellers in Spanish bars and restaurants, around the world and in Malta.
Established in the heart of Rioja in 1924 and approaching their 100 year anniversary. As of today, Ramon Bilbao sources grapes from 240 hectares of owned vineyards and sources fruit from a further 900ha via long-term grower contracts. The appointment of Rodolfo Bastida as head winemaker in 1999 marked a new era in the company's history. Rioja born-and-bred, Bastida believes in pushing viticultural boundaries, and letting the grapes he selects speak for themselves in his wines without being hidden by over-ageing and over-oaking. It is this adventurous attitude that has seen Ramon Bilbao become one of the best-selling wineries and fastest-growing Rioja names in Spain.
Often one of the 50 most admired Wine Brands in the world, it is, in 2021, only one of eight Spanish brands in the ranking. One of only three having remained among the most admired brands for three consecutive years. Which is achieved by supporting a winemaking method based on innovation and the unceasing pursuit of wines with a personality of their own, backed by a system of distribution and communication with the customer as the centre of its strategy and decision making.
Ramón Bilbao Murga was born in 1876 in Etxebarri, now absorbed by Bilbao, the Biscayan capital. In 1895 Ramón began working in a café in Etxebarri. Encouraged by an uncle of his who worked in the wine and cereal trade, he decided to move to Anguciana, a small village 5km from Haro. The Ramón Bilbao Winery in La Rioja is still located in Haro. Nowadays, apart from being the place where our most special wines are made, it also a tourist attraction that offers guided tours.
In 1863 phylloxera arrived to Europe. Ruined by this insect, dozens of French producers looked to Haro in search of wine to supplement their demand, which brought splendour, prosperity and transformative winegrowing knowledge to the area. The 1880s and 1890s were decades of great splendour in the Spanish region, which saw the emergence of what are now the region's centenary wineries. The beginning was very tough for Ramón Bilbao, since phylloxera hit Rioja in 1899, destroying the vineyards. What was a blessing in the beginning for Rioja turned out to be a disaster, with, the whole vineyard being lost in the next 3 to 4 years. During the first few years of the great crisis, some wines could still be produced, many from phylloxerated grapevines and others from another Spanish region of La Mancha, where the phylloxera took some years to arrive. But soon the decrease in production was coupled with the difficulty in exporting such poor-quality wines. Additionally, having successfully re-established their vineyards, the French began to lose interest in Riojan wines and in 1892, the French government imposed a tax on imported wines. Nonetheless, Ramón pushed on with courage and determination, and in 1899 he took his warehouse to Haro.
In 1929, just five years after opening the bodega, Ramón sadly passed away, leaving a dream come true to his son Enrique Bilbao – a dream that is still kept alive today inside every bottle of Ramón Bilbao, just waiting to be discovered. The legacy of Ramon Bilbao is kept alive more than ever today through the wines and a brand that grows from strength to strength.
The culmination of years of work towards sustainability and the conservation of the environment recently launched the two first wines in the Organic range. A red from the DOC Rioja and a Verdejo from Rueda, both from vineyards belonging to Ramón Bilbao.
"Sustainability is a priority at Ramón Bilbao. We are strengthening our action plan for the coming years in response to climate change. A step forward on our path towards being a conscious company and taking responsibility for our impact upon the planet." Rodolfo Bastida, Oenologist and General Manager of Bodegas Ramón Bilbao. Zamora Company, the business group to which Ramón Bilbao belongs, stands for creating value in line with the UN sustainable development goals. As a third-generation family business, they carry out their work applying regulations and levers that ensure future generations will enjoy a much more sustainable world.
The Spanish Wine Academy was established by Rioja's Ramón Bilbao to take readers on a journey of vinous discovery around Spain. Explore the different varieties of grape, techniques, latest production trends, and much more. Ramón Bilbao carries out extensive work to disseminate the culture of Spanish wine. Under this umbrella, Ramón Bilbao has promoted different training activities around Spanish wine through talks, tastings both inside and outside Spain, more specific articles in collaboration with the British Wine Magazine, Decanter, or through a series of videos available on Ramón Bilbao's Youtube channel presented by the journalist Quique Peinado. All activities can be seen on the web www.spanishwineacademy.com
[caption id="attachment_16261" align="alignnone" width="891"]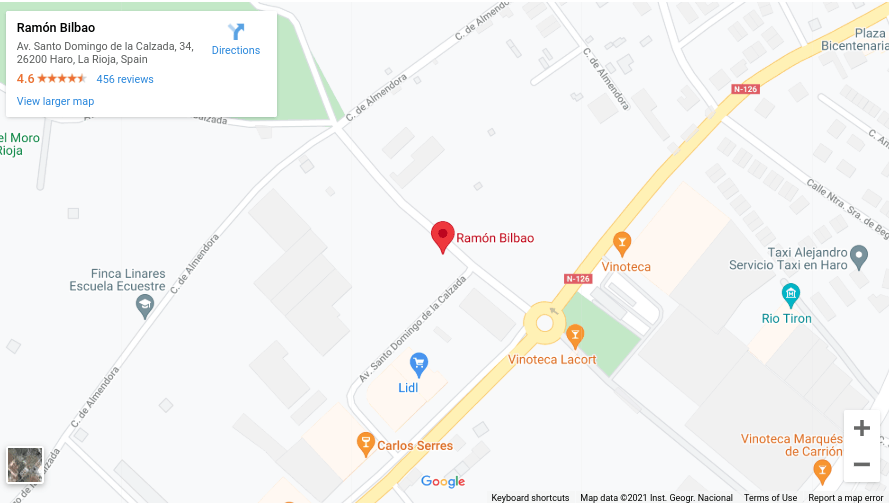 Bodegas Ramon Bilbao Map[/caption]
References : https://www.bodegasramonbilbao.es/ https://www.bodegasramonbilbao.es/en/sustainability/ https://www.facebook.com/ramonbilbao/ https://www.spanishwineacademy.com/
[/su_expand]