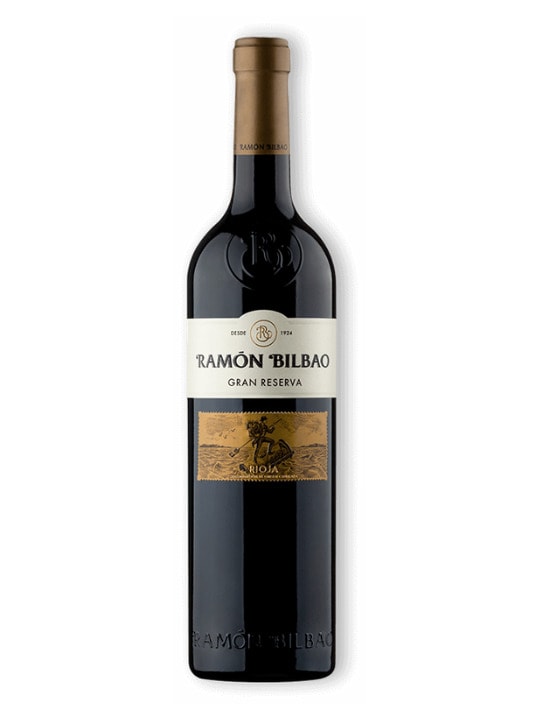 Ramon Bilbao Gran Reserva 2010 75cl
€31.20 inc. VAT
In stock
Brand
Ramon Bilbao
Bodegas Ramón Bilbao is one of the most prestigious wine brands in Spain and a key reference in Spanish and Rioja winemaking.
[su_expand height="110" more_icon="icon: plus" less_icon="icon: minus"]Ramon Bilbao is now backed by great viticulture specialists that work with respect for the land and tend the vines using all natural methods. The love of wine above all else, combined with a non-conformist spirit can be seen in the innovation and the new way of looking at the terroir. This strategy has managed to surprise critics and consumers, becoming an oenological point of reference around the world and making their wines amongst the biggest sellers in Spanish bars and restaurants, around the world and in Malta.
Established in the heart of Rioja in 1924 and approaching their 100 year anniversary. As of today, Ramon Bilbao sources grapes from 240 hectares of owned vineyards and sources fruit from a further 900ha via long-term grower contracts. The appointment of Rodolfo Bastida as head winemaker in 1999 marked a new era in the company's history. Rioja born-and-bred, Bastida believes in pushing viticultural boundaries, and letting the grapes he selects speak for themselves in his wines without being hidden by over-ageing and over-oaking. It is this adventurous attitude that has seen Ramon Bilbao become one of the best-selling wineries and fastest-growing Rioja names in Spain.
Often one of the 50 most admired Wine Brands in the world, it is, in 2021, only one of eight Spanish brands in the ranking. One of only three having remained among the most admired brands for three consecutive years. Which is achieved by supporting a winemaking method based on innovation and the unceasing pursuit of wines with a personality of their own, backed by a system of distribution and communication with the customer as the centre of its strategy and decision making.
Ramón Bilbao Murga was born in 1876 in Etxebarri, now absorbed by Bilbao, the Biscayan capital. In 1895 Ramón began working in a café in Etxebarri. Encouraged by an uncle of his who worked in the wine and cereal trade, he decided to move to Anguciana, a small village 5km from Haro. The Ramón Bilbao Winery in La Rioja is still located in Haro. Nowadays, apart from being the place where our most special wines are made, it also a tourist attraction that offers guided tours.
In 1863 phylloxera arrived to Europe. Ruined by this insect, dozens of French producers looked to Haro in search of wine to supplement their demand, which brought splendour, prosperity and transformative winegrowing knowledge to the area. The 1880s and 1890s were decades of great splendour in the Spanish region, which saw the emergence of what are now the region's centenary wineries. The beginning was very tough for Ramón Bilbao, since phylloxera hit Rioja in 1899, destroying the vineyards. What was a blessing in the beginning for Rioja turned out to be a disaster, with, the whole vineyard being lost in the next 3 to 4 years. During the first few years of the great crisis, some wines could still be produced, many from phylloxerated grapevines and others from another Spanish region of La Mancha, where the phylloxera took some years to arrive. But soon the decrease in production was coupled with the difficulty in exporting such poor-quality wines. Additionally, having successfully re-established their vineyards, the French began to lose interest in Riojan wines and in 1892, the French government imposed a tax on imported wines. Nonetheless, Ramón pushed on with courage and determination, and in 1899 he took his warehouse to Haro.
In 1929, just five years after opening the bodega, Ramón sadly passed away, leaving a dream come true to his son Enrique Bilbao – a dream that is still kept alive today inside every bottle of Ramón Bilbao, just waiting to be discovered. The legacy of Ramon Bilbao is kept alive more than ever today through the wines and a brand that grows from strength to strength.
The culmination of years of work towards sustainability and the conservation of the environment recently launched the two first wines in the Organic range. A red from the DOC Rioja and a Verdejo from Rueda, both from vineyards belonging to Ramón Bilbao.
"Sustainability is a priority at Ramón Bilbao. We are strengthening our action plan for the coming years in response to climate change. A step forward on our path towards being a conscious company and taking responsibility for our impact upon the planet." Rodolfo Bastida, Oenologist and General Manager of Bodegas Ramón Bilbao. Zamora Company, the business group to which Ramón Bilbao belongs, stands for creating value in line with the UN sustainable development goals. As a third-generation family business, they carry out their work applying regulations and levers that ensure future generations will enjoy a much more sustainable world.
The Spanish Wine Academy was established by Rioja's Ramón Bilbao to take readers on a journey of vinous discovery around Spain. Explore the different varieties of grape, techniques, latest production trends, and much more. Ramón Bilbao carries out extensive work to disseminate the culture of Spanish wine. Under this umbrella, Ramón Bilbao has promoted different training activities around Spanish wine through talks, tastings both inside and outside Spain, more specific articles in collaboration with the British Wine Magazine, Decanter, or through a series of videos available on Ramón Bilbao's Youtube channel presented by the journalist Quique Peinado. All activities can be seen on the web www.spanishwineacademy.com
[caption id="attachment_16261" align="alignnone" width="891"]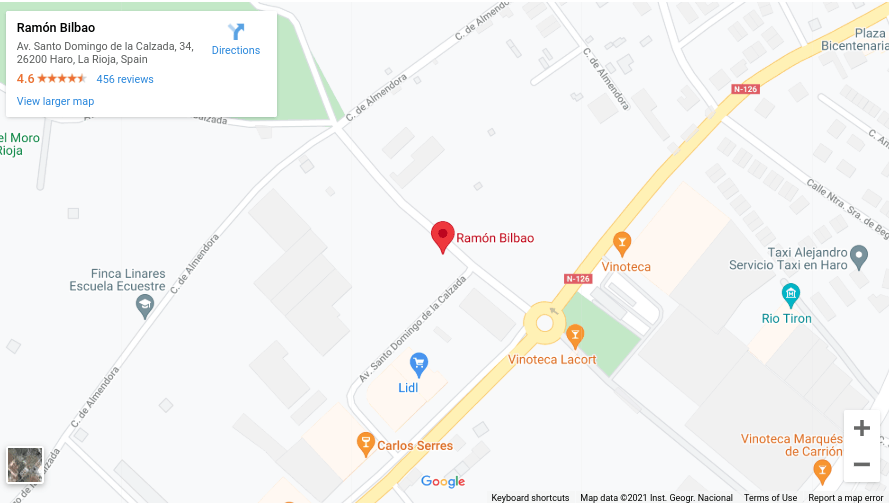 Bodegas Ramon Bilbao Map[/caption]
References : https://www.bodegasramonbilbao.es/ https://www.bodegasramonbilbao.es/en/sustainability/ https://www.facebook.com/ramonbilbao/ https://www.spanishwineacademy.com/
[/su_expand]