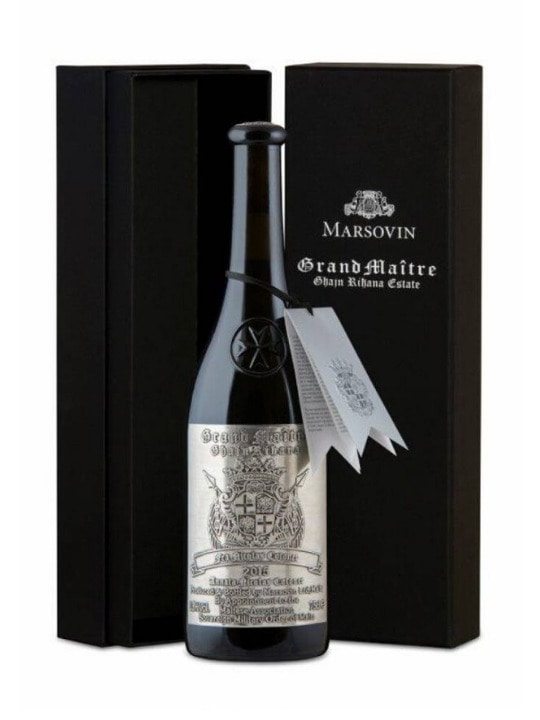 Grand Maitre 2017 75cl
€46.99 inc. VAT
Grand Maitre Vintage Wines have somewhat of a cult following in Malta. All grapes come from the private single estate in Ghajn Rihana between Mosta and Bidnija, near the Victoria lines. The fruit of each vintage is dedicated to one of the noble Grand Masters of the Sovereign Military Order of Malta.… details
| | |
| --- | --- |
| Format : 75cl | ABV : 13% |
| Vintage : 2017 | |
In stock
Description
Grand Maître Vintage Wines have somewhat of a cult following in Malta. All grapes come from the private single estate in Ghajn Rihana between Mosta and Bidnija, near the Victoria lines. The fruit of each Grand Maitre vintage is dedicated to one of the noble Grand Masters of the Sovereign Military Order of Malta. Grand Maître is the French name for Grand Master. The blend of Cabernet Sauvignon and Cabernet Franc generally produces very concentrated, full bodied wines of an intense aroma with some fruitiness. Following vinification, the unfiltered wine is aged in new oak barriques for over 12 months in the Marsovin Cellars prior to bottling. The aromas are of intense concentration of a black fruit character showing ripe, integrated, astringent tannins with an complexity of tar and leather combined with an oaky spicy character of cinnamon and liquorice.
The wine ages well. It is a well known collector's item, sometimes reaching prices well beyond expectations based on quality.
Għajn Riħana estate in Burmarrad. 1.6 hectares of land under vine. Deep alkaline soil with calcareous clay subsoil. Vertical trellis system with permanent cordon training for Cabernet Sauvignon and replacement cane pruning for Cabernet Franc. Controlled drip irrigation at 9,000 vines per hectare.
This 2015 vintage is dedicated to Fra Nicolas Cotoner, the 61st Prince and Grand Master of the Order of Malta. Climatic conditions were characterised by an abnormally cold winter spell and good rainfall, especially during January and February. Summer started off with a prolonged heatwave from the end of June to early July, followed by a sudden decrease in temperature, to below the average after a storm in the first week of August. These conditions contributed to a significant delay in reaching the optimum grape maturity which resulted in the latest harvest date in the history of this vineyard and a slightly lower harvest yield in comparison to the previous two years. The resultant wine portrays the typical characteristics of this vineyard, being an already very approachable and pleasant wine characterised by its typical fruity bouquet, velvety smooth tannins and new oak nuances. We expect these wines to increase in value over time.
https://www.maltatoday.com.mt/announcements/announcements/81014/maltas_largest_wine_producer_marsovin_releases_grand_matre_2015
https://timesofmalta.com/articles/view/marsovin-releases-grand-maitre-2015.659357