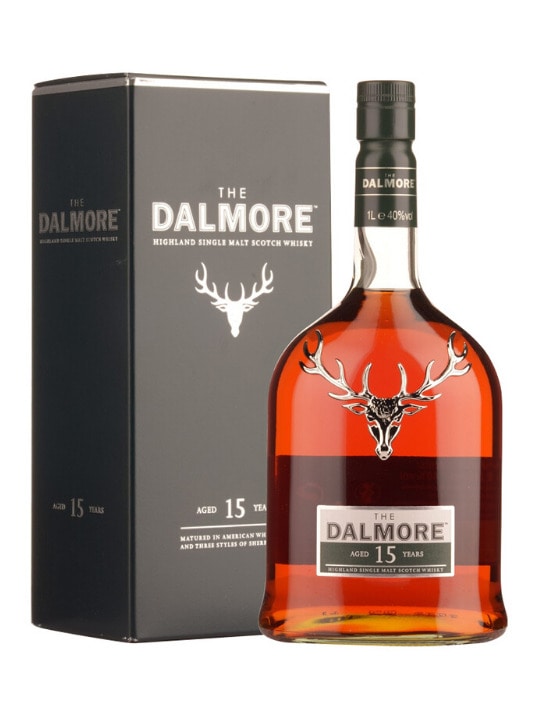 The Dalmore 15 Year Old Single Malt Scotch Whisky 70cl
€127.50 inc. VAT
| | |
| --- | --- |
| Format : 70cl | ABV : |
| | Aged for 15 Years |
Only 3 left in stock
Brand
The Dalmore
The Dalmore Highland whisky distillery was established in 1839 by Alexander Matheson, who immediately leased it to the Sunderland family for thirty years. [su_expand height="110" more_icon="icon: plus" less_icon="icon: minus"]In 1869, the lease was taken over by three Mackenzie brothers, Alexander, Charles and Andrew. Upon the death of Mr. Matheson, Andrew and Charles Mackenzie came forward to buy the distillery. As members of the clan Mackenzie they brought with them the iconic 12-pointed Royal Stag emblem, the caberfeidh which has adorned every bottle of The Dalmore ever since.
The story (legend) behind the stag and the beautiful bottle is that, when in 1263, when Colin of Kintail, Chief of the clan Mackenzie, saved the life of King Alexander III of Scotland from a charging stag, the grateful King granted Colin of Kintail the lands of Eilean Donan, the motto 'Luceo Non Uro', which translates to 'I Shine, Not Burn' and the right to use the 12-pointed Royal Stag as the Mackenzie clan crest. King Alexander later died by falling off his horse, but that is another story.
Every Dalmore product is matured in two different types of wooden casks: American white oak bourbon casks and exclusive aged sherry casks from Gonzalez Byass. Each sherry cask is selected by master distiller Richard Paterson and sourced from the world's finest bodegas and exclusive wineries.
The distillery remained family-owned until 1960 when one of Dalmore's main customers, Whyte & Mackay, who used the malt in their blends, took control. It remains part of Whyte & Mackay group to this day.
References :
https://www.bbc.co.uk/history/historic_figures/alexander_iii.shtml https://www.nationalgalleries.org/art-and-artists/5702/alexander-iii-scotland-rescued-fury-stag-intrepidity-colin-fitzgerald-death-stag https://www.thedalmore.com/ [/su_expand]