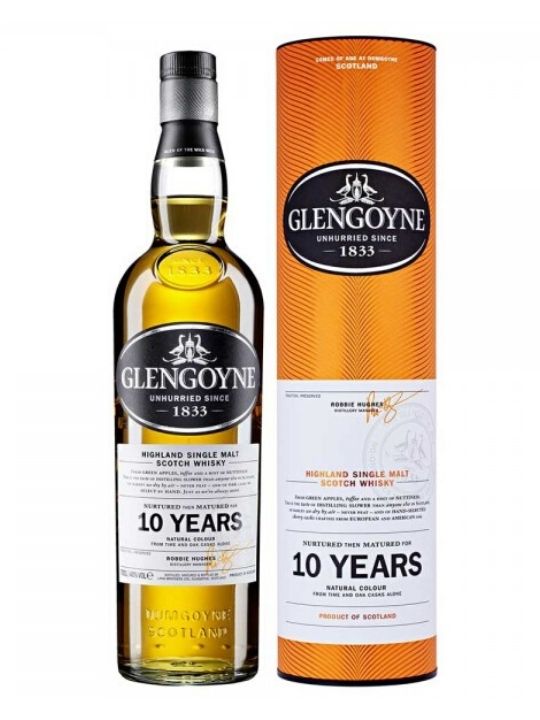 Glengoyne 10 Year Old Single Malt Scotch Whisky 70cl
€50.99 inc. VAT
Loads of green apples on the nose, with a hint of nuttiness, malt and toffee. Candied apple sweetness with some black pepper and toffee on the palate. On the finish the apple notes finally give it a rest, letting the oak give a clean and appealing finish to an erratic dram. Let it sit in the glass … details
| | |
| --- | --- |
| Format : 70cl | ABV : 40% |
| | Aged for 10 Years |
In stock
Brand
Glengoyne
Glengoyne Scottish Whisky
was founded in 1833 by the Edmonstone family. Its original name was Burnfoot distillery. A local businessman called John MacLelland then took control in 1851 before handing the reigns to his son, Archibald, in 1867. Burnfoot remained in his control until 1876 when a company called Lang Brothers bought the distillery and renamed it as Glenguin.
In 1905, the name is changed to current Glengoyne, apparently after Glenguin was spelt incorrectly on a batch of labelling. Lang Brothers (see Langs Whisky) decided to keep the name as they felt it was easier to read and pronounce. Robertson & Baxter became the new owners of Glengoyne in 1965, after taking over Lang Brothers, and fully refurbished and expanded the distillery. Robertson & Baxter later changed their name and became the Edrington Group (owners of Famous Grouse, Macallan and Highland Park Whiskies). Edrington decided to sell Glengoyne to Ian Macleod Distillers, an independent family owned spirits company, in 2003.
Glengoyne is a whisky distillery in the Southern Highlands. It is around 15 miles to the north of Glasgow and is in the village of Dumgoyne, close to the famous Loch Lomond. Glengoyne is one of Scotland's most traditional distilleries and is currently owned by Ian Macleod Distillers, who also own the Tamdhu distillery. Glegoyne distillery has an annual whisky production capacity of 1.1 million litres. Multi-award winning it has also won top awards for environmental polices.
More at
https://www.glengoyne.com/
. Also read
Whisky Unscripted – Online Free Podcast
You may also like…
Out of Stock

€

56.99 inc. VAT