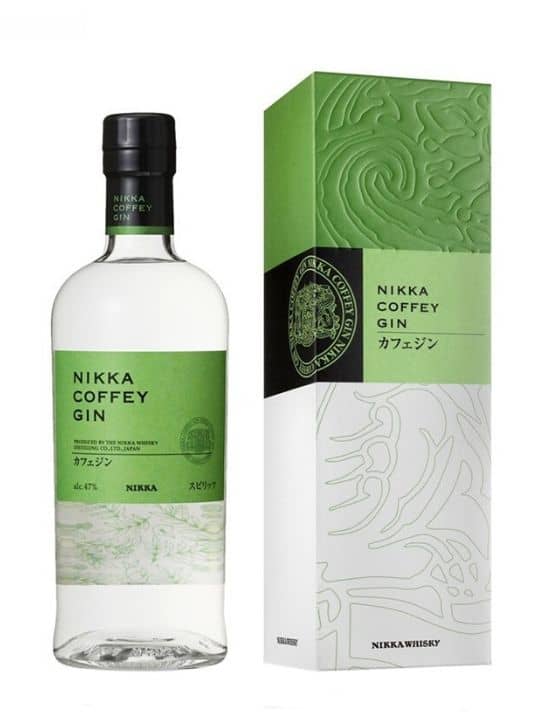 Nikka Coffey Gin 70cl
€49.00 inc. VAT
For adventurous gin fans. Four native Japanese citrus fruits are included in Nikka Coffey's botanical gin, alongside sansho peppers and traditional ingredients like juniper berries, angelica root, and coriander. Its citrus notes are nuanced and layered, and the sansho peppers add umami. All the while … details
In stock
Description
For adventurous gin fans. Four native Japanese citrus fruits are included in Nikka Coffey's botanical gin, alongside sansho peppers and traditional ingredients like juniper berries, angelica root, and coriander. Its citrus notes are nuanced and layered, and the sansho peppers add umami. All the while, the traditional 11 selected botanicals shine through, creating a profile that lies somewhere between a London Dry gin and a savoury new-age delight. Probably will not generally appeal to someone looking for a simple London dry gin to pair with (Fentimans) tonic. We have other London dry gins that you can try for that (and some are quite good). Nikka Coffey Gin is best served with an ice cube enjoying the Mediterranean Maltese sunshine, though it works well with some tonics creating a complex cocktail that showcases citrus, herbal notes, and a strong bitter character (chose your Tonic Water carefully). The bright and zesty aroma originating from four kinds of Japanese citruses, Yuzu, Kabosu, Amanatsu and Shequasar, compliments the traditional gin botanicals of juniper berries, angelica, coriander seeds, lemon and orange peels. There is also a touch of apples, a fruit deeply related to the history of Nikka, followed by pleasantly tangy hints of green Japanese Sansho pepper on the finish.
As with the Japanese distillery's Nikka Coffey Vodka, Nikka Coffey Malt and Coffey Grain whiskies, the Coffey Gin draws its name from the Coffey (column) still used instead of a pot still. Coffey Gin and Coffey Vodka, were added to the range in 2017 to further pursue the beauty of the Coffey stills. This brave project was accomplished by combining the tangible and intangible assets of Nikka such as the traditional Coffey stills, expertise in distilling gin and vodka since the 1960s, and blending skills inherited from the founder, along with the innovative mind. Coffey Gin's complexity is achieved through the perfect balance between botanicals and the silky texture of Coffey distillates. Nikka's gin is different from other gins in its approach toward the use of grains to impart character to the final product. Most gins are made with a "neutral" distillate (often made from wheat) which has been distilled to the point that it provides a blank palate for the botanicals that are infused to provide the gin's flavour. Nikka uses corn for the gentle sweetness it can impart and barley for the cereal notes it sometimes introduces.
On the nose, Nikka Coffey Gin offers bold notes of orangey citrus and lemon rind. Some pine and pepper follow. The palate follows suit but is much more complex and amazing. The citrus and lemon peel notes hit first and mix with a lovely, oily mouthfeel that carries both a spike of pepper and a touch of sweetness. Then the gin takes an herbal turn, perhaps from the Japanese pepper, and the finish introduces a slight menthol note that is quite lengthy before slowly fading.
The individual flavours of Nikka Coffey Gin are really distinctive but come together beautifully into an integrated whole.
You may also like…
Out of Stock

€

55.00 inc. VAT