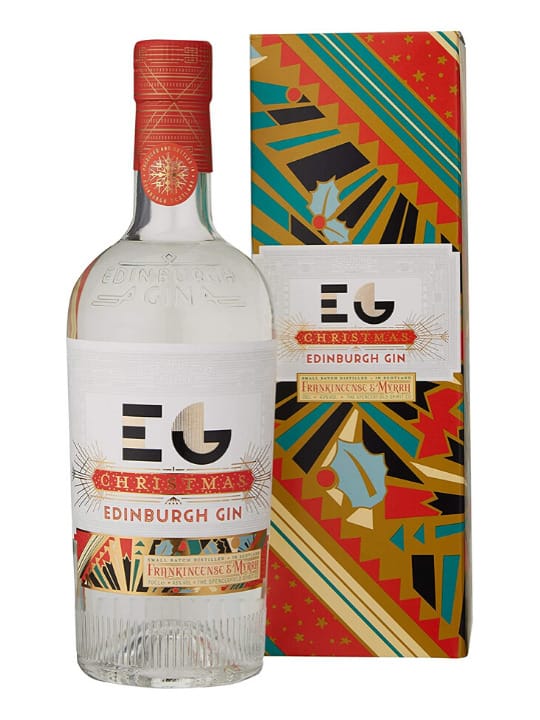 Edinburgh Christmas Gin 70cl 43%
€35.00 inc. VAT
Hurry. Last year this sold out quickly. Sorry.. finished again.

This Christmas Gin is a true spirit of the season. With spicy, aromatic notes of frankincense and myrrh alongside the classic juniper, Edinburgh Christmas Gin is a warming gin either to sip or mix in a Gin and Tonic cocktail (see our Fentimans Tonic water). Warming and aromatic, with sweet orange notes and lingering spice from cinnamon and nutmeg, this comforting yuletide spirit makes a festive G&T, with an orange twist to bring out its citrusy flavours. Made in the London Dry style, it's also perfect in a Negroni with its light sweetness balanced beautifully by the signature bitterness of Campari. Scottish made Edinburgh Christmas Gin is a limited, seasonal release from Edinburgh Gin.
Out of stock
Brand
Edinburgh Gin
Born in 2010, Edinburgh Gin is distilled in the heart of Scotland's capital city, just a stone's throw from the eponymous Edinburgh Castle. [su_expand height="100" more_icon="icon: plus" less_icon="icon: minus"]Set out to create the most perfect gins, no shortcuts, no exceptions. Edinburgh Gin only use 100% natural flavours, working wonders with natural flavours. To these, invention, exploration, and even revolution are added in creative combinations and a harmony of contrasts that intrigue, excite and captivate. The selection represent one of the most varied and vibrant range of gins in the world.
Taking inspiration from the wonder-filled captivating city of contrasts and harmony that blends historic tradition with contemporary creativity. A city of pride with world citizenship, nature and the urban environment. Edinburgh is an Urban Eden, where nature harmoniously contrasts with the beat of the street. Where captivating history meets boundary-breaking culture, with the world's greatest arts festival. Edinburgh provides inspiration, it is more than just where they are from, it's who they are.
The range started with the Classic, a world class London Dry, which became the foundation for a series of expressions that led the flavoured gin revolution, pushing boundaries and breaking down conventions and now includes many flavoured botanical gins. The gins are a labour of love that have taken the master distillers on a journey of original botanicals, innovation and imaginative natural flavours. The result is a diverse range of exceptional gins that captivate the senses - designed to impress, explore, talk about and remember. We are sure you will find something to your taste.
The West End Distillery is a destination unlike any other and is where the limited edition gins are distilled it's where the distillers ensure that the exceptional range of gins continue to captivate the senses. In 2016, a second distillery was opened, at a former biscuit factory in Leith. Here, custom copper stills have allowed Edinburgh Gin to increase production capacity to create and distil more London Dry award-winning gins. This is the larger distillery.
The Edinburgh Gin Distillery tours are ranked in the top 20 of Edinburgh Visitor Attractions on Tripadvisor. Part of the Ian Macleod group who also produce Tamdhu, Langs, Isle of Skye. Smokehead, King Robert, The Six Isles Blended Malt Scotch whisky and Glengoyne single malt whiskies.
[caption id="attachment_16805" align="alignnone" width="875"]
Edinburgh Gin Distillery Map[/caption] References :
https://www.edinburghgin.com/
[/su_expand]